We are proud & humbled as makers and as a women-owned small business, to be mentioned in so many publications! 
Thanks to all who were kind enough to include us.
We were on TV!
Season One FINALE of SELL IT LIKE SERHANT on BravoTV!  Yes, that's right, BRAVO TV!!!
  Roberta was on Dr. Oz Show to show how to do a tea-bag steam facial
Books, TV product spots, Podcast or Radio
2 Hands Made This Podcast with Christine Laureno interviewing Roberta
The Business of eCommerce Charlie Palleschi of Spark Shipping interviews Roberta
ECommerce Master Plan – Creating a business she loves, and making the customers happy. Chloe Thomas with Roberta of Scrubz Body
Lovelysilkspublishing.com Roberta was a contributor to the book 
Advance Your Art.com– Yuri Cataldo interview with Roberta Perry
ePodcastNetwork.com-Maintaining Green Practices With Scrubz  EPodcast Network
Indiebusinessnetwork.com/Makers on Main Street – Indie Business Network
The Boomer Business Owner.-  How to Manufacture and Sell Physical Products Online – Roberta Perry Interview
Additional Online Articles and Mentions from Our Early Days to Now:
Roberta Perry –  Committed to Creating a Customer Service Experience with great Natural Products – World Leaders Magazine
Cystic Acne and How to Help Get Rid of it
Pearl Lemon Interview with Roberta Perry 
Roberta Perry of ScrubzBody Skin Care: 5 Things You Need To Know About Redefining Success  by Karen Mangia
Best Business Advice I Ever Received:#5 Down
31 Beauty Experts Reveal If Vitamins Can Treat Acne (Vitamins For Acne 2021 Guide)
Roberta Perry of ScrubzBody Skin Care: 5 Things You Need To Know To Create A Highly Successful E-Commerce Business by Jerome Knyszewski
What the Road to Recovery Looks Like in Covid-19 Retail – Deborah Sweeney Article
Local Offers Fresh Take on Skin Care – ScrubzBody and Roberta Perry
Women in Wellness – An interview with Roberta Perry
Beauty Products to slip into your gym bag. Glamour.com We are at #6 from Holly Rilinger!
.
USA Today.com – Small Business Week Invest In Yourself 
Experts Share their Travel Skincare Tips – Roberta is at #5
Creating a Product for Yourself and Turning it into a Business – The Story of ScrubzBody – Starter Story
Shopify.com/ 5 Ways Retailers can Generate Revenue Outside Biz Hours – Make Your Own Scrubz Parties!
Huffington Post Canada – Acne and Adolescents 
Huffingtonpost.com –25-top-anti-aging-products-to-prepare-you-for-TV – #14 – ScrubzBody Cherry Almond Burst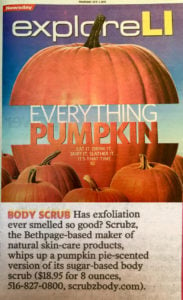 Prevention.com/beauty – 7 Women Reveal Why They Love Their Wrinkles – Roberta is #2
AmericanExpress.com – Customer Service American Express
AmericanExpress.com– What you should understand about landing a big client American Express
QuickenLoans.com/ Small Business Saturday Impacts Local Economy – Roberta loves shopping local, too
Newsday.com – ScrubzBody Rose from Personal Need – Newsday.com
New pitch niche:  Influencers' tout products to social media followers by Jamie Herzlich – Newsday
Rebateszone.com/Interview with Roberta Perry
Shefinds.com – Wedding Favors Guest Actually Want – ScrubzBody Sugar Scrub is at #10
Womenfitness.net/ Roberta Perry – How Juicing Changed My Life
Farmingdale Patch.com/new-york/farmingdale/bethpage-business-moves-farmingdale
CEOblognation.com Tips on Dealing With Angry Customers Roberta is at #13
Megaventory.com – How to Survive a Large Retailer  Roberta is the 3rd (we love our customers!!)
WorkAtHomeSuccess.com Roberta Perry
Alwaysnewyou.com- Peace of Mind/Zen Body Connectedness – Always New You
How 4 Entrepreneurs Grew Their Businesses by Combining Clicks and Bricks All Pro Web Tools
Sparkleflycandles.com– Spotlight on Scrubz™ Sparkle Fly
SmartHustle.com- Thriving During the Holidays  Smart Hustle.com
Expert Tips to Survive Halloween Makeup and Hair First Tip on Exfoliation
IndieBusinessNetwork.com- Dr-Oz-Show  Indie Business Network
Gaebler.com – Interview with Roberta Perry of ScrubzBody -Gaebler.com
Awards and Recognitions
Featured speaker on The Power of Free Publicity for your Business at Launch Live Summit for Speakers in Cleveland, hosted by International speaker, DeLores Pressley
March 21st, 2016 – Woman in Business Award –  Nassau County – Trailblazers
Featured speaker on Indie Business Cruise January 2016 about The Power of Free Publicity
March 29, 2011, Nassau County, Long Island, NY – Awarded a Citation celebrating "Made in Nassau County" by the Office of Minority Affairs, for Women's History Month
Bethpage – Best of Bethpage – 2013 and 2014 – Skin Treatments
NAPW – National Association of Professional Woman – Woman of the Year Award 2013-1014
2015 International Women's Leadership Association
A Selection of Blog Reviews:
Scrub-a-dub-dub! –Violet Kanian
Natural Way to Revitalize Body with ScrubzBody
MotherhoodLater.com/ Scrubz™ rejuvenated my skin – Cara Meyers